FOR THE FIRST TIME AT THE EXHIBITION:
THE "VRAC TECH INNOVATION" COMPETITION!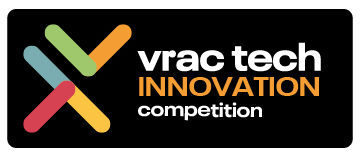 The Vrac Tech exhibition in Le Mans presents "Vrac Tech Innovation", the first competition that creates an event within the event to promote the expertise and know-how of exhibitors who drive innovation for all manufacturing sectors.
Vrac Tech enables you to effectively showcase your culture of innovation! 
 
Companies from all sectors must learn how to face new challenges, evolve, and find ways to stand out. Luckily, the exhibitors at Vrac Tech are primed to meet these challenges and support companies through them by innovating.
How do you promote your innovation and give it visibility on the market? 
The "Vrac Tech Innovation" competition represents a unique opportunity to validate the relevance of an idea and enhance visibility with the media and the trade  press, while gaining recognition from all stakeholders in the sector.

PROMOTE
Highlight  your innovation by explaining its transferable nature, its scope, its extended field of application

CAPITALISE
Bet on R&D research to provide a good return on the work and investment made

ADVERTISE
Create a buzz around the company and its culture of innovation and progress, while promoting team cohesion around the approach

REFERENCE
Participate in a broader process of continuous improvement and adaptation
 
OBJECTIVE: TO INNOVATE! SCHEDULE OF EVENTS
Closing date for entries will be Tuesday, 11 October.
Nominees and winners will then be selected by a jury made up of key manufacturers and institutions, along with the trade  press. 
The selection criteria relate to the innovative nature of the product or service, which must meet a market need and generate customer benefits.
---